Warning! : This post is not intended to teach you how to swear in Bahasa Indonesia instead to give you a clue what might peoples say while you visiting Indonesia.
Indonesian Swear words -Indonesian peoples is very deeply polite society, they taught to behave well  as a child including words manner. For example the famous soft spoken by Javanese has become nation pride for centuries and acknowledged by European nation such as The Netherland. Traditional manner is very respected in Indonesia, if you try to broke it then people would exile you. It just not accepted widely when you yell loudly to the elderly or speak something rude to person who is known. One of the forbiden thing to say is swear words, Indonesian view on those word is very deeply and you would got trouble when you said that right in their face.
But I guess you would not do that in your beautiful Indonesian Vacation right? how about when some  Indonesia  swear something to you? sometimes we need to know what exactly what they might swear so we could understand what behind their action and how to react toward it. Here the list of Indonesian Swear /slang Words you should know: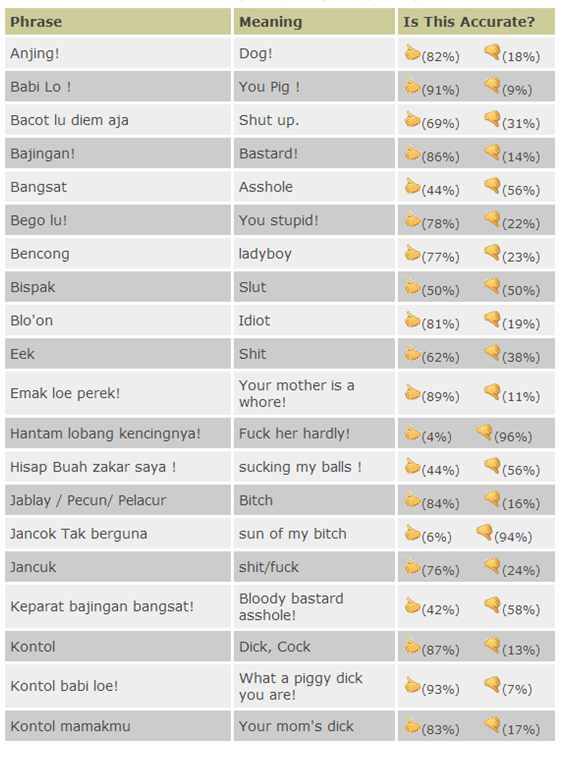 The list above is very deeply rude some even using human genital organ and animal so I suggest you never use it  when you visiting Indonesia or you would received violent backlash from the locals. Just like another Countries, Indonesian also use some hars words to express madness, annoyed, or just to flirt with one of another. Those swear words often used by some Indonesian youth but you would see the older say that. Cities citizen often  use some swear words in their daily activties meanwhile the villager would see it as taboo things.
As far I know Many foreigner in Indonesia also using it to express their feeling, I often laugh when they try to said those swear word because it sound too weird.
Comments
comments