Indonesian Christmas – Even tough Indonesia is the largest Muslims country in the world by now,but it doesn't means that they don't like western festival such as Christmas Day. Meanwhile Christmas originally is a religious holiday, in Indonesia it was celebrated by all religion along with New Year holiday, well that's the foreigner opinion about the Indonesian Christmas. None of those true actually, you will find out the reason why here.
The reality is Christmas in Indonesia celebrated by Christians only but since it was very popular holiday, many public buildings like mall, office and government building set up the Christmas ornaments on their place and seems like they celebrates Christmas too. The fact is Indonesian people and they government is very tolerant contrary to what western media portrayed. Well its true,  if you ever go to Jakarta on Christmas day, you'll find many public buildings being featured with Christmas ornaments.
Just like in any part of the world, Christmas in Jakarta is celebrate at large. Carol, Christmas Tree, fake snow, Santa Clause graced the Capital and the whole country.
Each year in Jakarta, thousands of Jakarta's children wore Santa's costume and paraded it all around the capital, they sing along too.
Javanese has different style celebrating the Christmas, they had their own Christmas Tree version plus they had different ritual how to celebrated Christmas, its kind a mystery because they blend it with their traditional belief which what they called as Kejawen.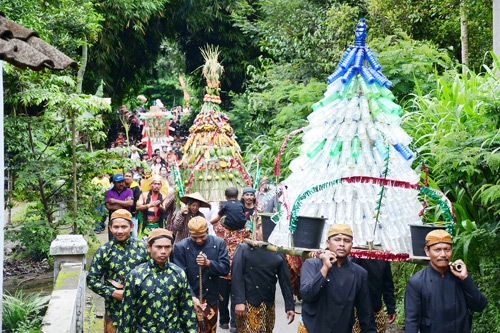 The Javanese Christmas tree is very unique because its being built with simple things such as paper, woods and other recycle material.
The Torajan is one of Christian Ethnic in Indonesia, they celebrated Christmas each year with their own language and traditional song. Usually they would wear their traditional dress in Church for Christmas eve celebration.
Manado, North Sulawesi is the capital city for Christians in Indonesia, no wonder they built the national biggest Christmas Tree in there.
Even tough consist with Majority of Christians, the Minahasan as the majority ethnic in North Sulawesi is very tolerant group, they also celebrated this religious holiday along with other religion follower or other ethnic. on Christmas Day you will find many Minahasan youth, both Christians and Muslims (and other religion followers too) wore Santa Clause costume go down to street, gathering together to celebrate Christmas. Some of them also taking task to spread the gift to the kids.
This harmonious relationship has made the North Sulawesian Province as the best example of good multi-faith and multicultural teritory in Indonesia.
Merry Christmas from Indonesia!
Comments
comments